Learn About the Holland Energy Park Cooling Towers

Why do we need cooling towers?
As construction advances on the Holland Energy Park (HEP), passersby will notice significant progress on the cooling towers structure nearest Chicago Drive. These towers are critical components for cooling the "combined cycle" process that increases the thermal efficiency of the plant. To learn more about how it works, check out the diagram below. Notice how the closed loop from the cooling towers captures excess heat from the plant, helping condense steam from the combined cycle process back into liquid.
How the combined cycle plant works.
What comes out of the cooling towers? Is it smoke?
The only thing exiting the cooling towers is clean water vapor. The cooling towers evaporate water from an entirely separate and contained loop that does not come in contact with the combustion or generation processes.
Will there be a plume?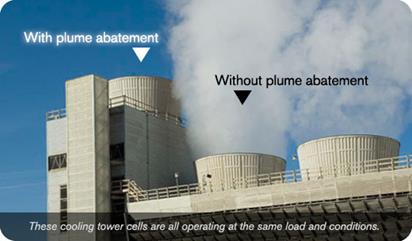 One of the most frequent questions we hear about the HEP cooling towers is, "Will it produce a big plume [cloud] or shut down the road like the plant in Zeeland?" Unlike the natural gas plant near Chicago Drive in Zeeland, our cooling towers are equipped with ClearSky plume abatement technology to ensure virtually no plume on most days and a very reduced plume under the most inclement conditions. This was an important concern to us from the beginning stages of our planning process including site selection, and so we elected to invest in plume abatement early on to avoid any interruptions to the road or surrounding natural area. Learn more about the process at http://spxcooling.com/Clearsky/solutions/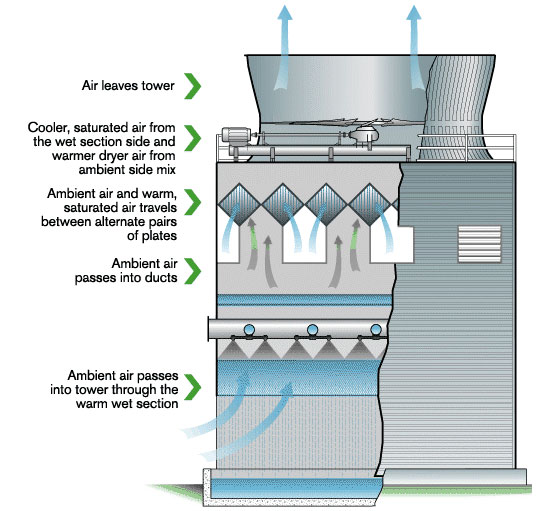 *image property and courtesy of SPX Cooling, ClearSky Solutions: http://spxcooling.com/Clearsky/solutions/