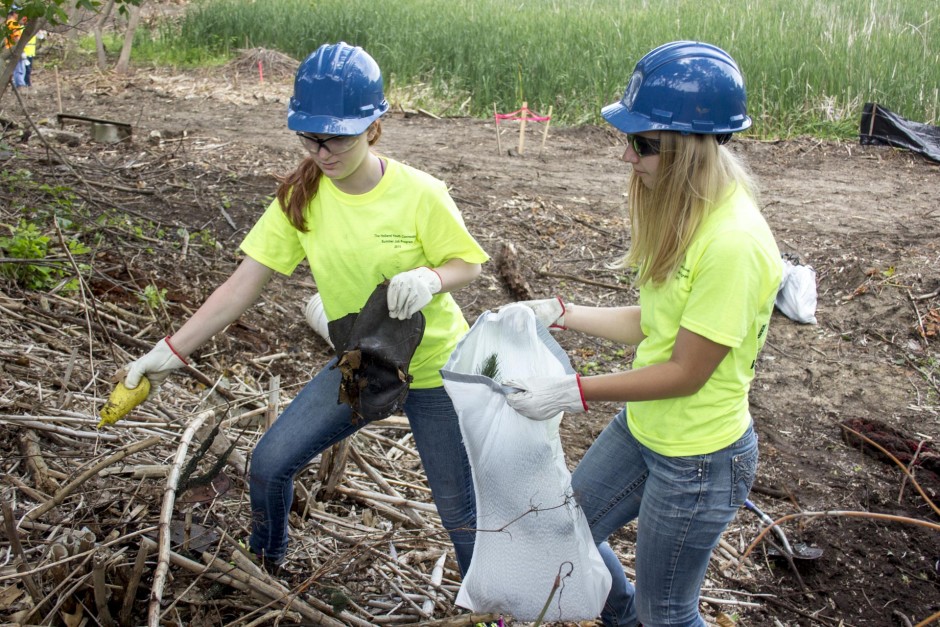 Holland Board of Public Works (BPW) is partnering with Holland Youth Connections to employ five at-risk local teens this summer on outdoor projects to sustain wildlife and beautify Holland's eastern gateway at the Holland Energy Park.
"These teens are working on the grounds of a legacy project, making the area look great and creating wildlife habitats," said Dan Nally, business services director at the Holland BPW. "That's something they can be proud of this summer, and every time they pass the Holland Energy Park thereafter."
Projects include assembling a hoop house that will be used for winter plant storage, assembling bat, bird and duck houses, and making other habitat structures out of brush piles, all near the wetlands and nature trails. Youth will also be planting native plants in the transition zone on the edge of the wetlands area to restore the "ecotone."  The Holland Youth Connections teens are working on projects outside the construction area due to MiOSHA and youth labor law restrictions about youth working near construction areas.
"It is no coincidence that juvenile crime rates in the area continue to drop," says Ryan Cotton, Holland City Manager. "Participating employers get a great new resource for more productivity, the at-risk youth develop new mentor relationships, and Holland's families are strengthened from employer access to this program."
The City of Holland, along with Escape Ministries, Good Temps, Ottawa County Michigan Works!, West Coast Chamber of Commerce and Lakeshore Advantage, are among the Holland Youth Connections' community partners.
About Holland Youth Connections
Holland Youth Connections began in 2013 with 12 kids working through the summer at parks to improve the city of Holland and jump start their futures in the job market. The following year, over 100 youth age 14-17 held summer jobs at 20 work sites in the Holland area. The program gives young people the opportunity to gain work experience, develop solid work behaviors, provide helpful services for the Holland community, and form positive relationships with peers and supervisors. Anyone ages 14-17 who is willing to commit to working hard for 10 weeks, this year from June 16-August 20, is considered for youth positions. Supporters can donate to Holland Youth Connections c/o Finance Department, 270 S. River Street, 49423.
About Holland Board of Public Works
The Holland Board of Public Works (HBPW) is a community-owned enterprise providing electric generation and distribution, water, wastewater treatment and broadband utility services to nearly 28,000 business and residential customers in the Holland area. HBPW is committed to enhancing the economic and environmental vitality of the community, providing reliable services at the lowest rates achievable through innovation, efficiency and professional operations.
About Partners Involved in Holland Youth Connections BPW Project Site