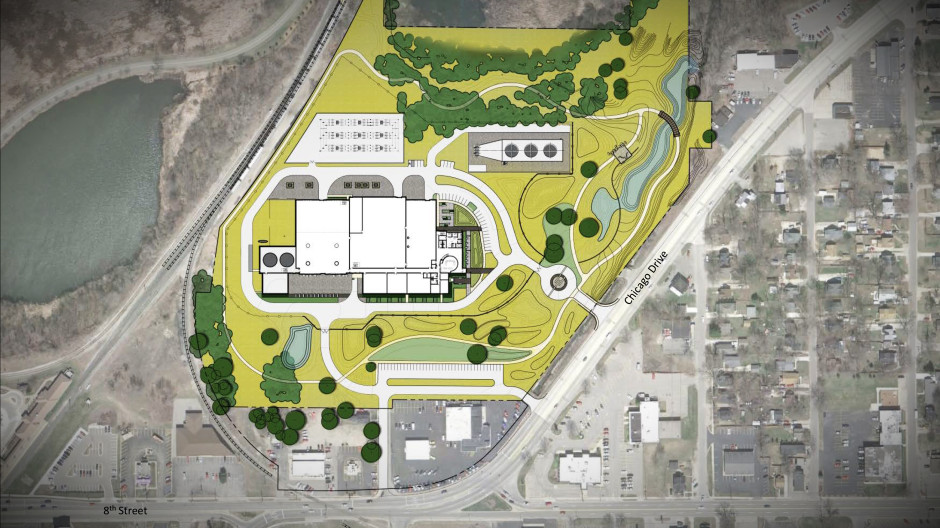 May 21, 2014, Holland, MI –. The Holland Board of Public Works (HBPW) announced its extensive efforts to reuse and recycle materials at the 26-acre site of Holland's future power plant today. The site contains a wide variety of items that the utility will move through auctions, reuse, recycling and donation.
"The Holland Energy Park will be a symbol of sustainability for our city," said Dave Koster, general manager at the HBPW. "In another era, we might have considered these materials to be waste debris, but today we have the opportunity to put them to good use on site and in the community. We are thinking broadly and creatively at every step in the project to maximize what can be re-purposed to save money, protect the environment and benefit the community."
There are a number of pole buildings and sheds that HBPW declared as surplus and plans to auction them off instead of demolishing and landfilling them. Two pole buildings will be maintained for operations during construction and will be auctioned after the power plant's completion late in 2016. The utility will also maintain one home on 6th Street as the construction field office. Ultimately, HBPW will auction the home to be moved to another location.
HBPW has already reached out to the neighborhood revitalization charity Jubilee Ministries, which recovered several furnaces, hot water heaters, vanities, cabinets and a number of solid wood doors from unoccupied houses scheduled for demolition. The items will be given extended life in home renovation projects in other parts of the city.
HBPW is also working with Benjamin's Hope, a community and housing ministry for families affected by autism, to recover and repurpose 20 utility poles and numerous tree trunks and stumps from the building site. The ministry plans to use them to construct a natural play area at its Riley Street site this summer.
"We're really excited and thankful to be working with HBPW on this project," commented Krista Mason, Executive Director at Benjamin's Hope. "The poles are going to be an excellent building material for new swing sets and other structures at our natural play scape."
In addition, HBPW will reuse more than 20,000 cubic feet of concrete from buildings, sidewalks and streets at the Holland Energy Park site in a variety of ways including gabion baskets (large wire cages filled with rocks), road bases, fencing, gates and picnic tables. The utility has also taken an inventory of the mature trees on the site and plans to keep any that are not impacted by the new facility. A number of smaller trees and ornamentals will be transplanted into the final landscaping.
As part of HBPW's purchase agreement with Star Excavating, the business is trading off their stockpiles of backfill material for the right to remove the steel portion of their building and reuse it in their new location.
The Holland Board of Public Works is a community-owned enterprise providing electric generation and distribution, water, wastewater treatment and broadband utility services to nearly 28,000 business and residential customers in the Holland area. HBPW is committed to enhancing the economic and environmental vitality of the community, providing reliable services at the lowest rates achievable through innovation, efficiency and professional operations.